Fall 2014
1. President's Message: Julie Mueller (Laurier)
I would like to take the opportunity to thank you for your interest in Teacher Education in Canada and specifically your membership in the Canadian Association for Teacher Education (CATE)/L'Association canadienne pour la formation des enseignants (ACFE). I am honoured to represent the interests of our membership as President for the next two years. This newsletter was designed as a conduit to our website in an effort to strengthen communication within our membership and build a community of educators/researchers/learners across Canada and beyond. I would also like to thank past and current CATE executive for their contributions to Teacher Education through participation in the organization and implementation of a variety of awards, conferences, publications, and networking opportunities each year.
Organization of our annual conference is under way with the review of over 110 proposals. Please read the rest of our newsletter and continue to check our website for more details regarding our pre-conference and special events, including an invited panel, a keynote speaker, and our annual CATE Dinner! Please encourage graduate students to consider attending the conference and making contact with our graduate student representatives, Kellie Baker and Arzina Zaver.
Teacher Education continues to be a strong force in our dynamic, global village. Continued research, debate, and advocacy are necessary to ensure innovative, positive, practice and policy are the foundations of education for all. Please join us in ensuring that Canadian Teacher Education research is at the forefront of this movement. I hope to see many of you in Ottawa in June 2015.
---
2. CATE Executive Announcements
CATE Pre-Conference 2015: Mindfulness and Well-Being in Teacher Education
Saturday May 30 from 1-4 pm
University of Ottawa
Please join us in an interactive afternoon of discussions, connections, sharing and explorations of contexts that support mindful teaching and a pedagogy of well-being. Referring to Kabat-Zinn's (1991) seminal definition, mindfulness strengthens one's capacity to pay attention, nonjudgmentally, to one's thoughts, feelings, and body sensations. Research suggests that mindfulness skills can increase educators' sense of well-being and teaching self-efficacy, and maintain supportive relationships with students (Meiklejohn et al. 2012; Soloway et al. 2011). Acknowledging the increasing evidence base for the efficacy of mindfulness practices that support a pedagogy of well-being, a panel of presenters will share their experiences with mindful educational practices supporting teaching and learning in higher education. After a Question/Answer period, experiential break-out sessions will focus on sharing and leading mindful practices. To register/for more information, please contact CATE Member-at-Large Karen Ragoonaden.
CATE Annual Graduate Student Awards
The Canadian Association for Teacher Education is pleased to inform the scientific community that, as part of its mandate to promote research on pre-service and in-service teacher education as well as staff development, it will once again recognize dissertations and theses in the field of teacher education.
Deadline for Submission is March 31st 2015
Eligibility: Any thesis or dissertation completed or defended between January 1st 2014 and May 31st 2015.
Full details will be distributed via the CATE mailing list in January 2015. For more information or to make a nomination, please contact CATE Past President Mark Hirschkorn.
---
Thompson Rivers University is pleased to invite proposals for Learning at Intercultural Intersections Conference, Kamloops British Columbia, March 11, 12, 13, 2015. Keynotes focus on three themes related to intercultural learning, pedagogy and curriculum:
March 11 Dr. Darla K. Deardorff – International Education
March 12 Dr. Airini – Indigenous Education
March 13 Dr. David Geoffrey Smith Intercultural Learning – Into the Future
Due date for proposals: Monday, December 1, 2014
Please send proposals and any questions to intercultural@tru.ca
Please include the following in the subject box: Your name (e.bourassa) the topic (proposal submission/question re: hotels…) so that we can direct your message to the right committee member.
Call for proposals for a new volume in the CATE Polygraph series:
CANADIAN PERSPECTIVES ON INITIAL TEACHER ENVIRONMENTAL EDUCATION PRAXIS
edited by Douglas Karrow, Maurice DiGiuseppe, Paul Elliott, Yovita Gwekwerere, and Hilary Inwood
Contact Douglas Karrow for more information.
---
BOOK ANNOUNCEMENT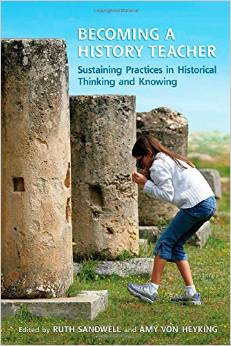 BECOMING A HISTORY TEACHER:
Sustaining Practices in Historical Thinking and Knowing
Edited by Ruth Sandwell and Amy von Heyking
360 pp / 6 x 9 / October 2014
5 images, 19 figures, 3 tables Paper 978-1-4426-2651-5 $35.95 Discount Price $28.76
A revolution in history education is propelling historical thinking and knowing to the forefront of history and social studies education in North America and beyond. Across Canada teachers, teacher education programs, schools, and ministries of education are embracing the idea that knowing history means knowing how to think historically.
Becoming a History Teacher is a collection of essays by history teachers, historians, and teacher educators on how to prepare student teachers to think historically and to teach historical thinking. Exploring teachers' experiences before, during, and after formal certification, this volume presents a wide range of resources for teachers and educators, including information on the latest research in history education and examples of successful history teaching activities.
Ruth Sandwell is an associate professor in the Department of Curriculum, Teaching, and Learning at the Ontario Institute for Studies in Education, University of Toronto.
Amy von Heyking is an associate professor in the Faculty of Education at the University of Lethbridge.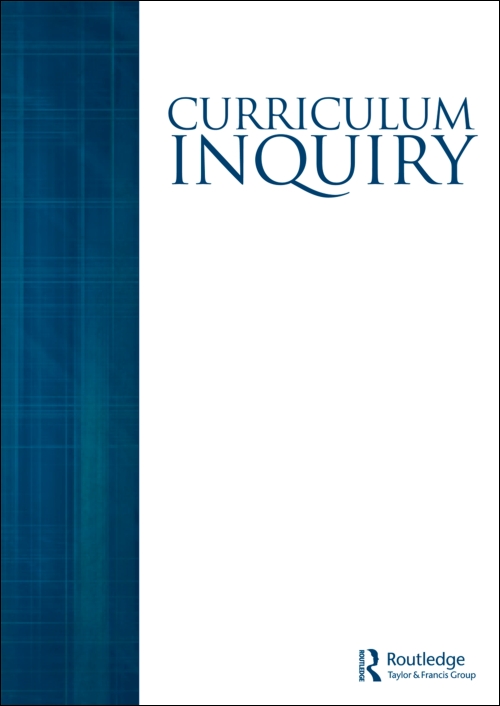 Curriculum Inquiry Call for Papers – New Scholar Special Issue
New Scholars in Review 2
The Editors of Curriculum Inquiry are seeking manuscripts for a special review issue scheduled to be published in January, 2016. This issue will feature essay reviews written by new scholars of curriculum studies. "New scholars" include students actively enrolled in a graduate program in curriculum studies or related fields at the time of submission as well as individuals who completed a graduate degree after January 2013.
This review issue of the journal aims to recognize the insights of new scholars as commentators on recent as well as "classic" books in curriculum studies. By showcasing their work in this special issue, the Editors of Curriculum Inquiry would like to encourage and honour their valuable contributions to the field.
For this special issue, the Editors are interested in receiving essay reviews based on two or more books that can either be recent books (published in or after 2012) or "classic" books (published before 1990 and considered to have had a substantial impact on the field*). The reviews should identify and critically examine key themes or issues raised by the books, in relation to other relevant sources and/or contemporary perspectives and debates in the field. In the case of "classic" books, the Editors are interested in reviews that highlight the historical significance of the books and their relevance to contemporary issues and perspectives in the field. The Editors are particularly interested in essay reviews that juxtapose or bring into dialogue a "classic" book with one or more recent book(s), and thus take a comparative approach to reviewing them.
All manuscripts submitted to Curriculum Inquiry are subjected to a preliminary internal review by the editorial team, and those deemed appropriate for publication in the journal will be sent anonymously to external reviewers.
Submission Deadline: May 1, 2015
Manuscripts for this special issue are expected to be between 5000 and 8000 words. To see examples of essay reviews, you may consult Volume 41, Number 1 of Curriculum Inquiry (2011). Guidelines for manuscript submission along with other relevant information will be available on the journal's website. Questions can be addressed to Sardar Anwaruddin at s.anwaruddin@mail.utoronto.ca
We look forward to receiving your submissions!
Thank you,
The Editors of Curriculum Inquiry
---
CATE Members are welcome to submit announcements for the next issue of the newsletter, and many thanks to those who contributed to this inaugural edition.