Fall 2015
1. President's Message: Julie Mueller (Laurier)
Hello CATE members!
It is that time of year again where we, as teacher education researchers, begin to consider the Annual Conference and perhaps reflect on our recent research. I encourage you to submit a proposal to present a poster, round table, paper or symposium—whichever format would best fit your work. CATE is an active, welcoming community offering a number of events during the conference that provoke discussion and debate, including a keynote speaker, an invited panel session and our Annual General Meeting and Awards Ceremony. Details regarding these events are included in this newsletter and will be distributed in future emails so stay tuned!
I am pleased to continue as your President this year and work with a passionate and committed executive to promote inquiry and research in the field of teacher education across Canada in a variety of contexts. Our association is only as vibrant as its members and their contributions. We will have several positions on the executive open for election this Spring. Please review the executive roles and their responsibilities and consider letting your name stand. An email will be sent to all members in the new year, but you are welcome to contact me with any questions or to indicate your interest.
Thank you to Lee Airton (OISE/UT) specifically for creating our newsletter and to the rest of the executive for their continued work on your behalf. Please review the newsletter and share with your colleagues and students.
---
2. CATE Executive Announcements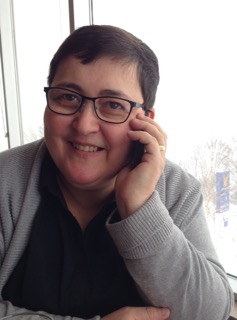 A message from CATE's first Francophone Member-at-Large/:
Nathalie Pender (Memorial)
For the last few years, CATE, as well as other associations affiliated with CSSE, has been trying to include research made in French and to promote francophone researchers. More ways have been put in place to ensure bilingual sessions and some associations, like CATE, have decided to include a new executive member to facilitate and promote research carried out in French within the Association. At a time when our promotion and tenure system favours research written in English because it is essentially based on the number of publications and readers, we are faced with a situation where "lost in translation" might not be a laughing matter anymore.
My name is Nathalie Pender and I was elected in May during the general annual meeting. I have been welcomed on the Executive to reinforce and facilitate the dissemination of research in both official languages, French and English. I hope to meet you at the next Congress to discuss possible solutions to the problem. At the same time do not hesitate to contact me if you want to share your ideas and suggestions.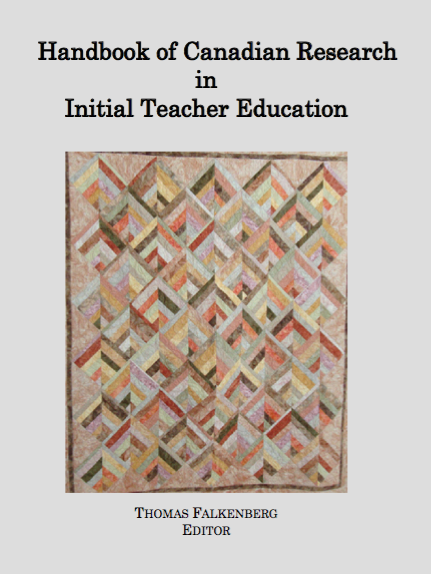 The CATE/ACFE executive congratulates editor Thomas Falkenberg (Manitoba) and authors on the new Polygraph!
This month the Handbook of Canadian Research in Initial Teacher Education was published as an open-access e-book by CATE as the sixth volume in its Polygraph Series. The book can be viewed and downloaded from the CSSE and CATE/ACFE websites. The book is edited by Thomas Falkenberg (University of Manitoba) with contributions by 51 Indigenous, francophone, and anglophone Canadian scholars from across Canada. The handbook has 17 chapters and is divided into three parts: a regionally divided overview of initial teacher education programming in Canada; discussions of core aspects of initial teacher education programming; and discussions of selected issues in initial teacher education in Canada. The ambition of the handbook is to reflect the current scholarly discourse on Canadian initial teacher education and to inform initial teacher education practice in Canada.
Updates on CATE/ACFE planning for Calgary 2016
CATE/ACFE executive committee members are working to put together a generative and enjoyable conference for members in Calgary next spring. In this section, we share some highlights and previews of what is to come. Once again, CATE/ACFE is asking for members to serve as peer reviewers for 2016 submissions to the annual CSSE conference. If you are interested please contact Vice President and Program Chair Jodi Nickel.
In Calgary, CATE/ACFE continues the practice of adopting the same theme for our annual Panel of Experts and Pre-Conference in order to provide a unified experience for CATE/ACFE members and encourage dialogue on a pivotal issue in multiple formats. The Panel of Experts will aim to produce a critical conversation on the effect of neoliberalism on specifically Canadian teacher education, and the Pre-Conference will create a space for members to share experiences of and responses to neo-liberalism within their own institutions. We look forward to a productive afternoon.
SAVE THE DATE!
2016 CATE/ACFE Pre-Conference: Neoliberalism and Teacher Education
May 28th 2016, 12 – 4PM
CATE/ACFE 4th Annual Graduate Student Panel
Getting published: What education graduate students need to know about publishing in refereed journals
In this professional development session, we will discuss the process of publishing in academic journals. Drawing on our experiences as authors/editors of peer-reviewed journals, we will share lessons learned on the publishing/editing process and address a number of questions that might be of interest to emerging scholars. What do we need to know while preparing a manuscript? How can we choose an appropriate journal for the manuscript? What happens to the manuscript after we submit it to the journal? We will also discuss some common reasons why manuscripts are not accepted for publication in refereed journals. This session is designed to be highly interactive, and we will focus primarily on the questions, concerns, and ideas that the attendees bring with them. We hope to give graduate students tangible skills and knowledge to embark on the process of getting their work published while pursuing their degree. Dates will be announced with the full program in the early spring.
Update on the 2015 CATE/ACFE Working Conference at OISE/University of Toronto
The 9th CATE/ACFE Working Conference was held from November 5-7, 2015 at OISE/UT and organized by CATE Past-President Mark Hirschkorn (New Brunswick). The conference began on the Thursday evening with an opening keynote by Ruth Childs (OISE), title "School Furniture, Fractions, and Students who are Habitually Idle: 150 Years of Debate about What Teachers Should Know and Who Should Decide." Attendees then workshopped papers together on the theme of "What Should Canada's Teachers Know? Teacher Capacities: Knowledge, Beliefs and Skills." Papers were grouped together around the following questions:
How does the global teacher education context influence what capacities Canadian teachers are expected to develop?

How are the capacities essential for new teachers identified and cultivated within teacher education programs? How do the capacities that are developed by teachers prior to and following their education program influence the education program?

How are teacher education programs held accountable for the capacities their teacher graduates possess? How are teacher capacities measured at any stage in their development?

Are the capacities of current teacher graduates serving the needs of an increasingly diverse, technologically immersed body of K-12 students? How are traditionally marginalized students influencing the capacities new teachers need?
CATE/ACFE would like to thank our host Ann Lopez (OISE/UT) for her pivotal contribution to the success of the conference.
The next Working Conference will be held in fall 2017 at Mount Saint Vincent University.
CAREC Post-Conference 2016
June 2, 2016 University of Calgary
Mosaics of Possibilities: Researching & Teaching through the Arts in Early Childhood Education
Please plan on joining researchers and practitioners for an inspiring and informative day of engaging bilingual conversations, presentations, and critical discussions on the role of The Arts in early childhood education. A call for presentations will be circulated in January, 2016. Details will be also be updated on CAREC's Facebook page.
---
3. Member Announcements
CALL FOR APPLICATIONS – POSTDOCTORAL FELLOWSHIP
Horowitz Teacher Education Research Scholar Postdoctoral Fellow
Faculty of Education, University of Alberta
The Centre for Research for Teacher Education and Development (CRTED), Faculty of Education, University of Alberta, invites applications for the Horowitz Teacher Education Research Scholar postdoctoral fellowship.
This is a one-year position, beginning July 1, 2016 with the possibility of extension. The stipend offered is $45,000 CDN, plus a research allowance of $1,000 CDN. Applicants will have an excellent academic record, a beginning record of publication, and a research program development plan.
The CRTED is nationally and internationally recognized for research and training in teacher education. The Centre is a scholarly centre with a mandate to engage in research for teacher education along the continuum from pre-service to ongoing teacher education. The Centre encourages collaborative and interdisciplinary research.
The successful candidate will join the vibrant research community at the Centre. The postdoctoral fellow will assume leadership responsibilities for his/her own program of research in teacher education and will join researchers at the Centre on programs already in progress. Leadership responsibilities of the postdoctoral fellow will include coordinating and completing research projects, training and mentoring research assistants and graduate students, participating in ongoing CRTED research discussions, and working closely and cooperatively with the CRTED members. The postdoctoral fellow will be expected to participate fully in research, publication, and dissemination activities.
Qualified candidates will have completed a doctoral program (within the past five years) in a relevant discipline such as teacher education, curriculum studies or education policy studies and will have a background in, or commitment to, researching teacher education. Relevant experience in a professional field will be an asset. Applications will be accepted from candidates who have completed their doctoral degree by July 1, 2016. The deadline for applications is February 29, 2016. Information can be obtained by contacting Dr. Janice Huber by phone at (780) 492-0902 or by email at jhuber@ualberta.ca
Applicants should send a letter of application, a curriculum vitae, an example of published scholarly work, and a research plan, as well as arrange for three confidential letters of reference, to be sent via email to: Dr. Janice Huber at jhuber@ualberta.ca
The University of Alberta welcomes diversity and encourages applications from all qualified women and men, including persons with disabilities, members of visible minorities, and Aboriginal persons.
CALL FOR PROPOSALS
Centennial Teacher Education Symposium at Southwest University, Chongqing
April 17-19, 2016
We sincerely invite and welcome you to participate in the Centennial Teacher Education Symposium at Southwest University, in conjunction with our Third Annual International Conference on East-West Reciprocal Learning in Education, on April 17-19, 2016 in Chongqing China. The conference will be held at Southwest University during the week of its 110th anniversary celebration. Dr. Shijian Chen, Vice President of Southwest University, and Dr. Yibing Liu, Dean of College of Teacher Education and Drs. Shijing Xu and Michael Connelly, SSHRC Partnership Grant Project Directors are pleased to announce this year's conference theme "Research on Reciprocal Learning in Teacher Education and School Education in a Global View". This international conference seeks to explore and promote intercultural reciprocal learning in teacher education and school education to prepare young generations for the globalized world through building cultural and educational bridges between Canada and China, and be-tween East and West. For more details please view our conference website.
The 13th Annual Summer Institute on Early Childhood Development
Growing ECE Access and Quality: Opportunities and Challenges
June 2-3, 2016 at George Brown College, Waterfront Campus, 51 Dockside Drive, Toronto, Ontario
Across Canada and around the Globe policymakers are looking to expand children's access to early childhood education. Join Rowena Phair of the OECD's Education and Skills Directorate and Tove Mogstad Slinde of the OECD Network on Early Childhood Education and Care as they discuss how states are expanding ECE access while maintaining program quality; balancing the needs of 0-3 year olds with programs for 4-6 year olds; and addressing children's right to ECE with parents need for child care. Please visit our website for more information.
CALL FOR APPLICATIONS
EUROPEAN DOCTORATE IN TEACHER EDUCATION (EDITE)
Deadline: December 5th, 2015
The EDiTE project offers 15 full-time researcher positions in the field of Teacher Education at five universities (host universities) for well motivated and excellent early stage researchers from Europe and other countries under the condition that the funding authority approves the funding of all 15 ESR positions. The positions are financed from the European Union's Horizon 2020 research and innovation programme under the Marie-Sklodowska-Curie grant agreement number 676452.
Early Stage Researchers (ESRs) are invited to apply to pursue individual research projects at one of the five partner universities (Eötvös Loránd University, Budapest, Hungary; University of Innsbruck, Austria; University of Lisbon, Portugal; University of Lower Silesia, Wroclaw, Poland and Masaryk University, Brno, Czech Republic) in the framework of the joint EDiTE research program as employed researchers. They will also be enrolled in the EDiTE PhD programme at host universities.
The overall term of employment is 36 months, which should be concluded by a successful research project with the awarding of the PhD title by the host institution and a joint EDiTE diploma by the EDiTE university consortium.
International Study Association on Teachers and Teaching (ISATT) announces the
18th BIENNIAL ISATT CONFERENCE 2017
"Teaching search and research"
3 – 7 July 2017 at the University of Salamanca, Spain
Please visit our website for more information.
International Congress for School Effectiveness and Improvement (ICSEI) January 6-9 2016
"Connecting teachers, schools and systems: creating the conditions for effective learning"
6 – 9 January, 2016 in Glasgow
Scotland is pleased to host the International Congress for School Effectiveness and Improvement (ICSEI) conference that will take place in Glasgow from 6-9 January 2016. The conference will be co-chaired by GTC Scotland and University of Glasgow. The conference offers a unique forum for practitioners, academics, policy makers and researchers to engage through keynote sessions, symposia and individual papers. More information is available online.
Summer Institute in Teacher Education
University of the Fraser Valley, Abbotsford BC
July 2016
The Teacher Education Department at the University of the Fraser Valley in Abbotsford is proud to offer a Summer Institute in Teacher Education: Innovative Teaching Practices for 21st Century Students in July 2016. The SITE provides exciting opportunities for local, national and international educators to engage in powerful professional development and qualify for possible TQS (Teacher Qualification Service) upgrade. We envision recent Teacher Education Program graduates, TTOCs (Trained Teachers On Call), teachers in their early years of teaching and/or teachers in career transition as our target audience. Our theme for SITE 2016 is Enabling Innovation.
SITE is designed with practicing teachers in mind. It is flexible, it provides a wide array of courses (1-, 2- and 3-credit), and it puts the needs of school teachers first. We take great care to offer coursework in subjects and topics that matter most to educators.
Call for Proposals
We are seeking active, engaged instructors to teach our courses who are specialists in their field and who are interested in providing powerful and memorable learning opportunities to our students.
For more information and/or to submit a proposal, please visit our website.
---
PUBLICATION ANNOUNCEMENTS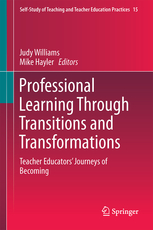 Professional Learning Through Transitions and Transformations
edited by Judy Williams & Mike Hayler
Through a narrative inquiry approach, this book examines the personal professional journeys of teacher educators who have undertaken self studies, and/or researched the professional development of teacher educators. The theme of the book is how change, through professional transitions and transformations and notably, through self study research, has shaped the professional identities and practices of these teacher educators. Each chapter is an exploration of how the author/s 'became' teacher educators in relation to personal and/or professional transitions, such as transitioning from teacher to teacher educator; moving between different institutional and geographic contexts; or from changes in philosophical, policy and/or pedagogical understandings over time. Each narrative draws on the author's self study experience, and develops their knowledge further by presenting the wisdom they have gained over their career as teacher educators. The book concludes with a discussion of the connections between the diverse experiences of the authors, and what can be learned from their accumulated wisdom about what is means to become a teacher educator in a dynamic and ever-changing educational landscape.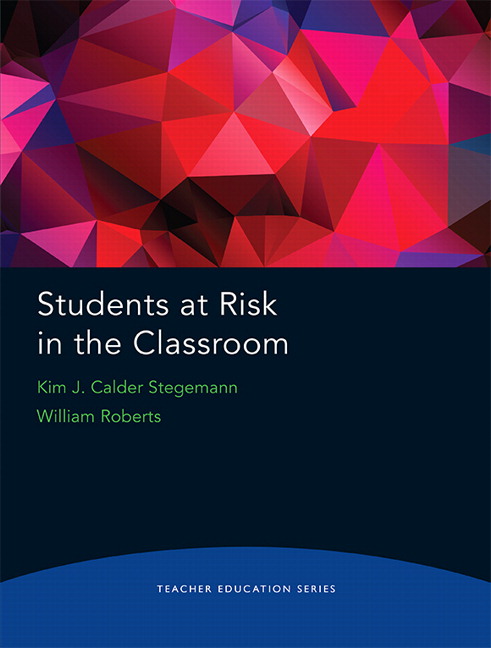 Students at Risk in the Classroom
by Kim. J. Calder-Stegemann & William Roberts
The aims of the Students at Risk module are to offer teacher candidates and in-service teachers a practical guide to understanding some of the most common behaviours that interfere with learning in the classroom, their origins, and some useful strategies for helping students who face these challenges. This text is not designed to be a handbook for teachers who are teaching in special education settings. Rather, it is intended for general education teachers who are working in inclusive educational environments. The principles of universal design for learning, multiple intelligences, and response to intervention that are introduced in this text are extremely useful constructs for use in any general education setting.
Guo, Y. (2015). "Unlearning privileges': Interrupting pre-service teachers' deficit thinking of immigrant students with origins in the South. Cultural and Pedagogical Inquiry, 7(1), 34-59.
Holmes, K. (2015). An auto ethnographical reflection on teaching and learning in the Undergraduate Education program. Creative Approaches to Research 8(2).
Holmes, K. & Bearance, D. (2015). Ontology through a mindful process. Interchange: A Quarterly Review of Education. 46(2), 143-152.
Lesage, M., Raîche, G., Riopel, M., Fortin, F., & Sebkhi, D. (2015). The internet implementation of thehierarchical aggregate assessment process with the "cluster" wi-fi e-learningand assessment application — A particular case of teamwork assessment. In B. Gradinarova (Ed.), E-learning: Instructional design, organizational strategy and management. Rijeka, Croatia: InTech.
*Please note that we will only be soliciting and publishing book announcements in the Member Announcements section going forward.