Spring 2015
Welcome to the second CATE Quarterly Online Newsletter! Our next edition will be published very close to the CSSE Conference and feature profiles of our award recipients. Watch for the call to members.
1. CATE Announcements
Save the Date(s)! CATE Special Events in Ottawa at CSSE
For those who are anxiously awaiting the release of the CSSE conference schedule, the first draft should be available by the end of March. In the meantime, we can share the tentative schedule for these special CATE events:
Monday, June 1 @ 3:00: CATE Panel on Disciplinary Knowledge and Curriculum Inquiry
Monday, June 1 @ 4:30: CATE Grad Student Awards and AGM followed by CATE dinner
Tuesday, June 2 @ 3:00: CATE Keynote Thomas Falkenberg
Wednesday, June 3 @ 11:30, CATE Grad Student Panel
Stay tuned for more details!
CATE Pre-Conference 2015: Mindfulness and Well-Being in Teacher Education
Saturday May 30 from 1-4 pm
University of Ottawa
Please join us in an interactive afternoon of discussions, connections, sharing and explorations of contexts that support mindful teaching and a pedagogy of well-being. Referring to Kabat-Zinn's (1991) seminal definition, mindfulness strengthens one's capacity to pay attention, nonjudgmentally, to one's thoughts, feelings, and body sensations. Research suggests that mindfulness skills can increase educators' sense of well-being and teaching self-efficacy, and maintain supportive relationships with students (Meiklejohn et al. 2012; Soloway et al. 2011). Acknowledging the increasing evidence base for the efficacy of mindfulness practices that support a pedagogy of well-being, a panel of presenters will share their experiences with mindful educational practices supporting teaching and learning in higher education. After a Question/Answer period, experiential break-out sessions will focus on sharing and leading mindful practices. To register/for more information, please contact CATE Member-at-Large Karen Ragoonaden.
Call for Nominations:
The 2015 CATE Award for Contributions to Research in Teacher Education
This award has been created to recognise significant contributions to research in teacher education in Canada. The award applies to a body of research and not necessarily to a particular study or publication. Candidates do not need to be CATE members, but must be nominated by a member of CATE. The application must include two additional letters of recommendation from people associated with at least one other institution. However, these people do not need to be CATE members. Criteria for the award include evidence of excellence in research in teacher education through publications, presentations or other contributions, as well as overall influence on the field of teacher education research in Canada and internationally. The deadline for the receipt of nominations is April 10, 2015; more information on the nomination process can be found here.
Invitation – CATE Graduate Student Email Group
The Graduate Student Representatives to the CATE executive committee would like to make contact with graduate students who have an interest in the area of teacher education in order to inform students about the upcoming spring 2015 CSSE conference and the CATE session designed specifically for graduate students. If you are interested in being a part of this e-mail group please contact one of the addresses below.
Kellie Baker (Memorial) and Arzina Zaver (OISE/UT), CATE Graduate Student Representatives
Call for Nominations: The CATE Graduate Student Awards
The Canadian Association for Teacher Education is pleased to inform the scientific community that, as part of its mandate to promote research on pre-service and in-service teacher education as well as staff development, it will once again recognize dissertations and theses in the field of teacher education.
Deadline for Submission is March 31st 2015
Eligibility: Any thesis or dissertation completed or defended between January 1st 2014 and May 31st 2015.
For more information visit the corresponding page on our website. If you have questions, or would like to make a nomination, please contact CATE Past President Mark Hirschkorn.
Technology and Teacher Education SIG (TATE) Pre-Conference and Dinner
Saturday May 30th, 2 – 4 PM
The Technology and Teacher Education (TATE) SIG will be holding their pre-conference session on Saturday May 30th from 2 to 4pm in Vanier Room 1042 (the Teaching Learning Support Services Training Space). Dr. Alec Couros from the University of Regina will be facilitating a workshop on open thinking and education (http://educationaltechnology.ca/couros/).
The TATE SIG will then be hosting a dinner at the Canal Ritz (http://www.canalritz.com/) at 6pm on Saturday May 30th.
Please email Norm Vaughan (nvaughan@mtroyal.ca) if you would like to attend.
CSSE Post-Conference – Canadian Association for Research in Early Childhood (CAREC)
'The Decline of Children's Play in the 21st Century': Rhetoric or Reality?
Is play at risk in the 21st century? Much has been written on the potential for children's play to be usurped by more rigorous academics in early childhood curricula and by the growing trend of commercialization (Hill, 2011). This discourse prioritizes play as a means to an end (i.e., play for learning; play to combat obesity), but what of children's right to play? Some of the polarization within academic studies point to a decline in children's imaginative play (Bishop, 2009; Kline, 1993) and a characterization of children 'glued' to screens instead of climbing trees (Buckingham, 2011; Louv, 2008). Other academics have found that children's play is not in decline. Rather children's 21st Century play appears to be complex, ambiguous, and a hybrid of the varied aspects of children's lives (Willett, Burn, Bishop, Richards, & Marsh, 2013). Join scholars, researchers, and practitioners for an informative and engaging day of presentations, networking, and critical dialogue on the role of play in early childhood education, preschool, and the early primary years.
Post-Conference Format
Based on the number of accepted submissions, we envision our day beginning with a short welcome and keynote presentation. Throughout the remainder of the day, several multi-paper sessions will be available for attendees to choose. Each multi-paper session will be 75 minutes in length where (up to) three groups of varied scholars and researchers will provide an overview of their individual focus of scholarship and help to contribute to the critical discourse related to the theme of the conference, 'The Decline of Children's Play in the 21st Century': Rhetoric or Reality? Presentations may be in French or English. Three nutrition breaks planned throughout the day will afford delegates ample opportunity to interact as well as visit the poster sessions that will be presented and on display. A brief closing session will round out the day.
CAREC will also be editing a special section in the Canadian Journal of Education based on the theme of this year's conference, stay tuned for more details.
For updates on this conference and other CAREC postings, please follow us on Facebook.
A Message from the Canadian Journal of Education
CJE is Canada's flagship journal of educational research, publishing research and scholarly writing that is of relevance to the Canadian education community. The CJE is read by scholars worldwide, and aims to represent the valuable contributions that Canadian scholars in education continue to make to the field. With more than 2000 registered readers, the Journal delivers a large and engaged audience to its authors. SCImago ranks the CJE very highly in Canada, with an H-index of 16 and an impact factor of 0.236 (SCImago, 2013). CJE aims to ensure that the the journal includes manuscripts from the breadth of disciplines within education, and is committed to publishing articles of the highest quality, from both new and established scholars, in both French and English. CJE is sponsored by the membership of CSSE, and is very pleased to receive articles authored by CSSE members. The editorial team is committed to bringing submission to press as quickly as possible. The CATE executive would like to encourage members to consider CJE when seeking publication venues for research on Canadian education.
---
2. Member Announcements
Call for Applications – Tenure-Track
The Faculty of Education at the University of Prince Edward Island invites applications from qualified candidates for tenure-track positions at the rank of Assistant Professor beginning July 1st, 2015. There are two positions:
Come join us on the "Gentle Island" in our welcoming and vibrant, academic community. If you have any questions about these positions or about the University of Prince Edwards Island, please contact Ron MacDonald, Dean of the Faculty of Education, at rjmacdonald@upei.ca or (902) 566-0349. Note: Deadline for applications is March 16, 2015.
New Book Announcements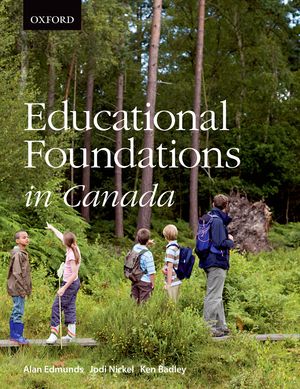 Educational Foundations in Canada
Alan Edmunds, Jodi Nickel and Ken Badley
This book takes a comprehensive look at the sociological, philosophical, historical, legal, and political factors that impact classroom experiences. Embedded throughout this discussion are practical insights and advice drawn from the authors' own extensive teaching experience. This thought-provoking and thorough introduction is an indispensable resource for teachers both during their pre-service years and throughout their careers.
Readership: Educational Foundations in Canada is aimed at first- and second-year students enrolled in foundations courses in B.Ed programs nationwide.
Order: Oxford University Press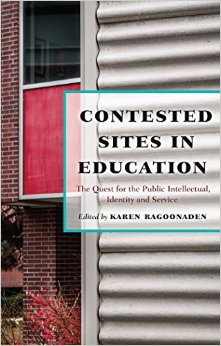 Contested Sites in Education:
The Quest for the Public Intellectual, Identity and Service
Edited by Karen Ragoonaden
This edited volume discusses the challenges faced by a Faculty of Education transitioning from a university college to a research intensive university and the ensuing vagaries of tenure and promotion within the academic context of negotiating the neo-liberal agenda of supply and demand.This book offers provocative insights into the impact of change on the sense of agency and the ensuing consequences on the personal and professional identities of seven academics at various stages of their career. Recognizing the serious debate surrounding the raison d'être of Higher Education, (Emberley, 1996; Christensen & Eyring, 2011), this volume explores how faculty members wrestled with the inherent tension of the corporatization of the university ensconced in research intensive mandates, and the challenge of fulfilling their formative mission: to develop intellectual and cultural resources to prepare themselves and their students for lives of significance and responsibility (Sullivan & Rosin, 2008).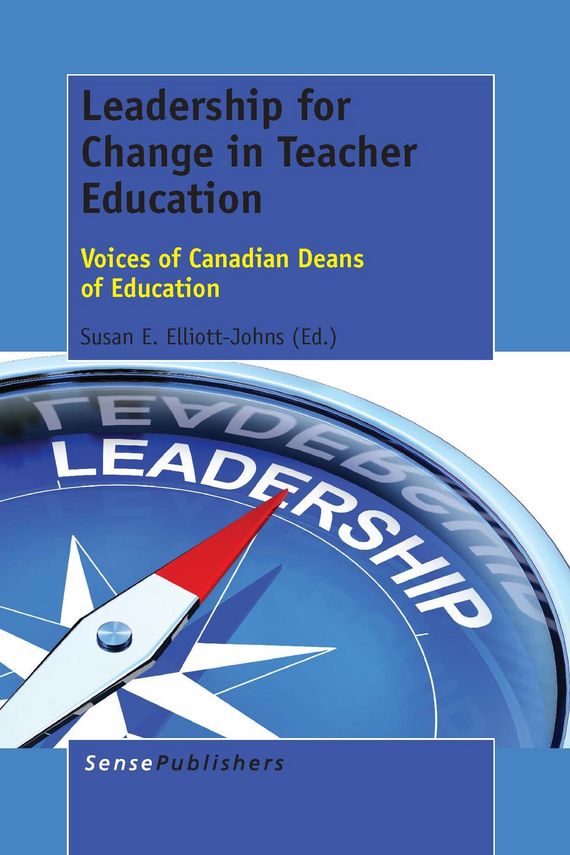 Leadership for Change in Teacher Education:
Voices of Canadian Deans of Education
Edited by Susan E. Elliot-Johns
This book presents a rich sampling of diverse perspectives on the topic in a unique collection of reflections contributed by Canadian deans of education. The focus of the inquiry, "What would we hear from deans of education invited to share their perspectives on leadership for change in contemporary teacher education?" invited deans of education to reflect on the research, policies and practices currently informing their leadership. The results, fourteen engaging and provocative essays, offer important insights and increased understandings of the complex nature of their work and explore concerns raised in relation to lived experience and the multi-faceted processes of leading change for teacher education in contemporary contexts. Reflections in these short essays underscore the critical role of deans in provoking, supporting and championing new ideas and approaches to pedagogy for teacher education, and make clear the complexities inherent in leading the change. The Coda highlights the limited scope of related research available in the current literature and recommends urgent attention, in both research and practice, to the preparation of deans and support for their ongoing professional learning and sustainable leadership. This book will be of great interest to scholars, deans of education, teacher educators, university administrators and other policymakers.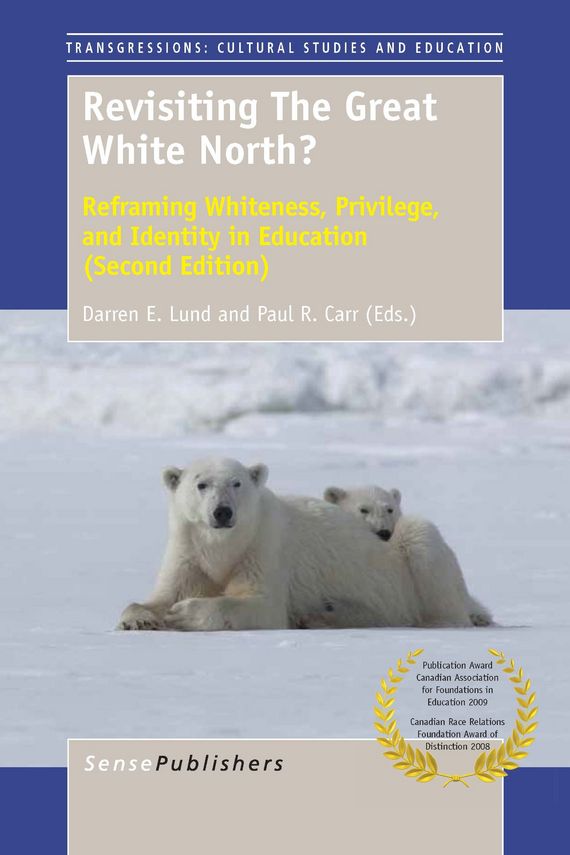 Revisiting the Great White North?
Reframing Whiteness, Privilege, and Identity in Education (Second Edition)
Edited by Darren E. Lund and Paul R. Carr
Returning seven years later to their original pieces from this landmark book, over 20 leading scholars and activists revisit and reframe their rich contributions to a burgeoning scholarship on Whiteness. With new reflective writings for each chapter, and valuable sections on relevant readings and resources, this volume refreshes and enhances the first text to pay critical and sustained attention to Whiteness in education, with implications far beyond national borders. Contributors include George Sefa Dei, Tracey Lindberg, Carl James, Cynthia Levine-Rasky, and the late Patrick Solomon. Courageously examining diverse perspectives, contexts, and institutional practices, contributors to this volume dismantle the underpinnings of inequitable power relations, privilege, and marginalization. The book's relevance extends to those in a range of settings, with abundant and poignant lessons for enhancing and understanding transformative social justice work in education.
Call for Papers – JCACS
Special Issue on Curriculum Theory and Teacher Education
The Editors of the Journal of the Canadian Association for Curriculum Studies (JCACS) invite submissions for an upcoming Special Issue on the topic of Curriculum Theory and Teacher Education. Few collections have explicitly examined the linkage and utility of curriculum theory in relation to the education of teachers. While previous studies have used curricular frameworks to make sense of teacher learning within teacher education programs and other structures for teacher learning, this Call targets research that explicitly uses curriculum theories and curricular modes of inquiry to conceptualize, analyze, or provoke teacher education programs, courses of study, and formalized learning experiences. The aim of this Special Issue is to provide a research basis for the theoretical attributes of curriculum within teacher education contexts. Manuscripts could draw from a variety of epistemological orientations and may include empirical, historical, or conceptual methodologies.
Possible topic areas include (but are not limited to):

Curriculum theorizing of teacher education programs

Curricular examinations of historical and contemporary teacher education reforms

The teaching of curriculum and curriculum theory within teacher education programs

The politicization of curriculum theory within teacher education programs

Diverse program orientations supported through explicit curriculum theories and designs
Please note: Manuscripts that solely describe teacher education programs will not be considered.
Timelines and Process
1. Submit a proposal of between 400-1,000 words to jcacs@queensu.ca by April 1st, 2015. Proposal should include:
Title of article

Author name(s), affiliation(s), and contact information

An article abstract of 500 words, highlighting novel features and explicit connection of curriculum theory to teacher education

An explanation of the contribution the article will make to curriculum studies
2. Successful authors will be invited to submit full papers for peer review, following normal procedures. The following timeline is anticipated:
Proposal submission: April 1st, 2015

Invitation to submit complete manuscript: April 15th, 2015

Full manuscript submission: August 1st, 2015

Anticipated publication date: November 15, 2015
Inquiries about this Special Issue can be made via email to jcacs@queensu.ca.
Call for Papers – Canadian Journal of Education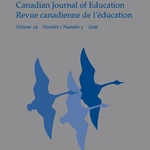 Special Issue on Thinking Differently About Children's Play
CJE Call for Papers: Special Issue Capsule
Thinking Differently About Children's Play
The Canadian Journal of Education invites submissions for a special capsule issue focusing on children's play. Is play at risk in the 21st century? Much has been written on the potential for children's play to be usurped by more rigorous academics in early childhood curricula and by the growing trend of commercialization (Gillian-Mauffette, 2009; Hill, 2011; Nicolopoulou, 2010; Trawick-Smith, 2012). This discourse prioritizes play as a means to an end, suggesting that play-based early childhood education programs lead to better learning and developmental outcomes (Bouchard, et al., 2014; Rogers & Evans, 2007). This instrumentalization of children's play has been criticized for setting up a dichotomy between play that is encouraged and viewed as beneficial, and play that is considered illicit or inappropriate (Edmiston, 2008; Hartmann & Brougère, 2004; Sutton-Smith, 1997).
Submissions must be uploaded to CJE's online journal system by September 25, 2015.
Conference – Sp'e'qum: Early Years Conference
Nurturing Developmental Wellbeing | Strengthening Children and Families
Vancouver, BC June 28 – 30, 2016
Join us to celebrate 20 years of innovative professional development with our 10th conference in Canada for early childhood development and family support. Our success reflects the powerful partnerships that we have formed across many communities: University of British Columbia, Infant Development Program, Aboriginal Infant Development Program, Sunny Hill Health Centre, BC Children's Hospital, Family Support Institute and many more. These partnerships allow us to address diverse topics of evidence based practice and research. The 2016 conference will continue to lead the field to improve skill development, practice and systems. Over the last 20 years there has been an explosion in research in areas of child development, child welfare, infant mental health, and family support. The conference has evolved from national to international participation. More information and abstract submission (due May 31, 2015) can be found here.
Conference Invitation: 3rd International Congress of Educational Sciences and Development
San Sebastián, Spain, June 24 – 26 June 2015
*Special discounted rate for CATE members (CATE is a Collaborating Institution)*
This congress is open to professionals, professors, researchers, teachers, students, administrative assistants and directors in the field of Educational Sciences and Developmental Psychology. This event is focused on Family, School, and/or Community Education and Human Developmental Psychology, both at the theoretical and practical level. Therefore, we welcome researchers and professionals in the fields of Psychology, Pedagogy, Psychopedagogy, Social Education, Social Work, Sociology, Education…) willing to share and discuss theoretical and practical scientific knowledge in any of the areas that will be covered. The scientific activities will take place during three days, and include Conferences, Practical Workshops, Invited Symposia, and Written Communications. The scientific program counts on the presence of relevant national and international speakers, who will present the latest advances in a wide range of topics.
200 word abstracts are due by April 30, 2015. More information can be found on the conference website.