Spring 2016
1. President's Message: Julie Mueller (Laurier)
Welcome once again to CATE/ACFE's newsletter!
As our annual conference draws closer once again, I encourage you to consider attending CSSE in Calgary this year to re-charge your passion for teacher education; to explore connections and questions within and beyond your own field of research; to mentor and support graduate students and new scholars; to learn from and recognize established scholars; to participate in Congress wide events related to or apart from education; and, to marvel at and enjoy Western Canada! A variety of CATE/ACFE events, both old and new, have been planned by your executive and promise to provide exceptional experiences for everyone. I encourage you to take note of the events and the proposed schedule below in addition to attending research presentations, workshops, and social events. I ask you to consider contributing your talents and interests to the association through service on the executive. A list of roles to be filled is included below as well. A call for nominations will be sent to the membership in the next few weeks. Details of the various roles are available on the CATE website. Our website is quickly filling to capacity housing our growing publications. We are working toward development of an alternative to our current "free" Google Sites platform. I would like to thank Lee Airton for the time, work, and commitment that has already been invested in this project as well as the newsletters that Lee revitalized and continues to produce. I would like to thank all those on our executive for their continued service and I encourage you to demonstrate your appreciation for their work on your behalf by attending our Annual General Meeting in Calgary or tweeting a note of appreciation using #CATEACFE.
---
2. CATE Executive Announcements
We are pleased to announce the 2016 schedule of CATE/ACFE events that Executive members have programmed for Calgary. We look forward to seeing you there!
2016 CATE/ACFE Keynote
Dr. Sharon Friesen (University of Calgary)
Tuesday, May 31st, 3:00-4:15PM Room TBA
Dr. Friesen is founding partner and President of Galileo Educational Network and is Vice Dean of Werklund School of Education, University of Calgary.
2016 Annual CATE/ACFE Panel of Experts
Critical Discourses on the Impact of Neoliberalism in Teacher Education
Monday May 30th 2016, 3:00-4:15PM Room TBA
Panelists:
Dr. John Portelli (OISE/University of Toronto)
Dr. Claudia Ruitenberg (University of British Columbia)
Dr. Renee Kuchapski (Brock University)
Dr. Peter Grimmett (University of British Columbia)
From the panelists' informed positions, the panel will discuss how neoliberalism has influenced the field of teacher education, teacher education programs, and individual institutional experiences.
2016 CATE/ACFE Annual General Meeting and Dinner
Monday May 30th
AGM at 4:15PM & dinner to follow at 7PM Location TBA.
Please consider donating a recent book for our annual book display at the AGM.
Each year at the CATE/ACFE Annual General Meeting, we display, promote, and celebrate resources and information that would be of value to Canadian teacher educators. For this purpose we put on a book display with recent publications in teacher education that may be of interest to our membership, prior to and during our AGM. At the close of the meeting, the books are given as prizes to graduate students who are the recipients of awards for their work in teacher education. If you or a colleague has recently published a book or series related to teacher education and would like to donate a copy or two of that work to CATE for the purpose above, please contact Julie Mueller. Thank you for your time and consideration in furthering the work of Canadian teacher educators.
2016 CATE/ACFE Pre-Conference
Neoliberalism and Teacher Education: Critical Conversations
Saturday May 28th 2016, 12-4PM Room TBA
This pre-conference provides an opportunity for teacher education researchers to critically discuss and explore the impact neoliberalism has on teacher education in Canada and globally. Participants will first have opportunities to share their experiences about how neoliberalism has impacted their work, their programs, and societal expectations more generally. Secondly, it will invite participants to share their own responses, through research, teaching, or program change, to neoliberal influences in teacher education. We will also discuss the potential of subsequent writing/publishing opportunities of an edited volume. The following two questions will provide the framework for the Pre-Conference:
What are the impacts of neoliberalism on your institution, your teacher education programs, and your own work?

What are your responses (individually and collectively) in your research and at your institution to neoliberal influences?
Please RSVP by email to one of the CATE/ACFE Members-at-Large (Manu Sharma, Kathy Sanford or Nathalie Pender) by April 1, 2016 as spaces will be limited.Lunch will be provided at a nominal cost.
We are excited to delve into deep conversation with you soon!
2016 CATE/ACFE Graduate Student Panel
Getting published:
What education graduate students need to know about publishing in refereed journals
Panellists:
James Corcoran, Canadian Journal for New Scholars in Education
Christopher DeLuca, Canadian Journal of Education
Marianne A. Larsen, Comparative and International Education
Sandra Mathison, Critical Education
Gregory P. Thomas, Alberta Journal of Educational Research
Sylvie Wald, Graduate student editor of McGill Journal of Education
In this professional development session, we will discuss the process of publishing in academic journals. Drawing on our experiences as authors/editors of peer-reviewed journals, we will share lessons learned on the publishing/editing process and address a number of questions that might be of interest to emerging scholars. What do we need to know while preparing a manuscript? How can we choose an appropriate journal for the manuscript? What happens to the manuscript after we submit it to the journal? We will also discuss some common reasons why manuscripts are not accepted for publication in refereed journals. This session is designed to be highly interactive, and we will focus primarily on the questions, concerns, and ideas that the attendees bring with them. We hope to give graduate students tangible skills and knowledge to embark on the process of getting their work published while pursuing their degree. Dates will be announced with the full program in the early spring. Organized by CATE/ACFE Graduate Student Representatives.
CATE/ACFE Special Event:
Discussion on the Challenges and Possibilities of Educational Research in French
Session 19 on Tuesday May 31st 2016, Room TBA
Hosted by Nathalie Pender (Memorial), CATE/ACFE Member-At-Large – Francophone
My name is Nathalie Pender and as a member of the executive of CATE, I have been mandated to organize a constructive discussion on the place of research in French, its difficulties, and the possible solutions to remediate them during the next congress in Calgary. I am inviting all CATE members to help me determine the topics of this discussion. Yours answers to the following questions and the work currently done by CSSE and CATE will allow us to organize a discussion based on your interests and opinions.
As Francophone researchers, we publish in French or in English. Is this by choice or by necessity?

Is it possible to do research in French in Canada?

Is it necessary to do so?

What are your own questions?
I hope to meet you in Calgary to continue this discussion. Thank you for your help.
Nathalie Pender
CATE/ACFE Town Hall
Emancipation through education: The role of teacher education in international contexts
Wednesday June 1st 2016, Room TBA
In response to our first CATE/ACFE Town Hall on International Education held last year in Ottawa following CATE members' participation in the International Summit on the Teaching Profession, we are planning a second town hall style event this year in Calgary to open discussion related to teacher education from a global perspective. This year the discussion will examine the power of education and the role of teacher education in international contexts. Add this opportunity to participate in provocative discussion and debate with peers and colleagues, to your Calgary plans!
CATE/ACFE Special Joint Session
with the Association of Canadian Deans of Education (ACDE)
Are we admitting the right teacher candidates?
The future of admission processes for teacher education programs
Chairs: Dr. Chad London (Mount Royal) and Dr. Jodi Nickel (Mount Royal)
Panelists:
Dr. Ruth Childs (OISE/University of Toronto)
Dr. Kim Calder Stegemann (Thompson Rivers University)
Dr. Mary Jane Harkins (Mount Saint Vincent University)
Dr. Kent Hecker (University of Calgary)
For decades, teacher education programs have struggled to identify the most effective and efficient processes to admit teacher candidates (TC's) who have the strongest likelihood of success in the program and the profession. This panel will discuss the types of "non-academic" admissions criteria and processes that are in use across the country including approaches increasingly used by other professional programs to assess critical professional skills such as collaboration, ethical decision-making, self-awareness, sense of responsibility, cultural sensitivity, communication, empathy and problem solving.
CALL FOR NOMINATIONS
CATE/ACFE Lifetime Award for Contributions to Research in Teacher Education
This award has been created to recognise significant contributions to research in Teacher Education in Canada. The award applies to a body of research and not necessarily to a particular study or publication. Candidates do not need to be CATE/ACFE members, but must be nominated by a member of CATE/ACFE. The application must include two additional letters of recommendation from people associated with at least one other institution. However, these people do not need to be CATE/ACFE members. Criteria for the award include evidence of excellence in research in Teacher Education through publications, presentations or other contributions, as well as overall influence on the field of Teacher Education research in Canada and internationally.
Submission Requirements
Nominators, who must be CATE/ACFE members, must submit:
1. An initial letter of recommendation from a CATE/ACFE member outlining the contributions of the nominee and providing evidence of excellence in research and significant contributions to teacher education in Canada and internationally (maximum two pages).
2. The nominee's curriculum vitae, including relevant publications and presentations throughout this person's career, and not just from the past five years.
3. Two supporting letters from persons who are able to attest to the outstanding nature of the nominee's contributions. These individuals do not need to be members of CATE.
Extended deadline for submissions: March 25, 2016
All nomination materials should be sent to CATE/ACFE President Julie Mueller.
CALL FOR NOMINATIONS
CATE/ACFE Executive Committee
The following positions will be open for nomination and election at the 2016 CATE/CAFE AGM. Please consult the position descriptions on our website.
Vice President
Secretary-Treasurer
Communications Director
Member at Large (1)
Graduate Student Representative (2)
CSSE New Scholar Committee (CATE/ACFE Representative)
CATE Award for Research Contribution Committee (CATE/ACFE Representative) (1)
All nominations should be sent to CATE/ACFE President Julie Mueller as soon as possible.
---
3. CATE Special Interest Group (SIG) Announcements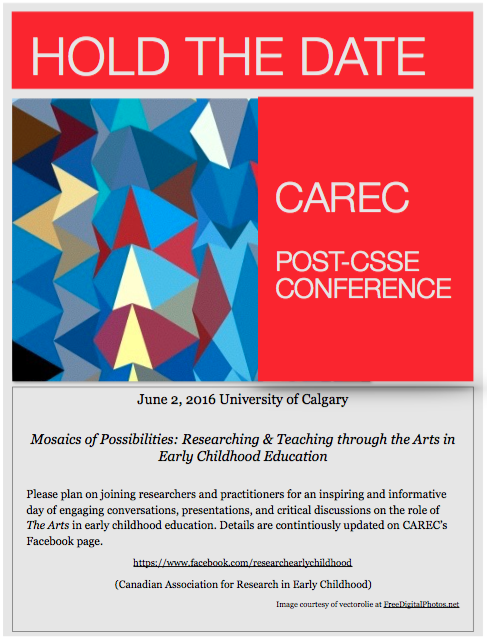 Canadian Association for Research in Early Childhood (CAREC)
Post-Conference 2016
June 2, 2016 University of Calgary
Mosaics of Possibilities: Researching & Teaching through the Arts in Early Childhood Education
Please plan on joining researchers and practitioners for an inspiring and informative day of engaging conversations, presentations, and critical discussions on the role of The Arts in early childhood education. Details are continiously updated on CAREC's Facebook page.
Canadian Association for Research in Early Childhood (CAREC)
AGM 2016
The CAREC AGM will be held during the lunch break on Wednesday June 1st (light refreshments will be available-room location TBA). The election of a new SIG President will occur during the AGM so please plan on joining us. Information regarding the position and nomination process can be obtained from Debra Harwood.
Technology and Teacher Education (TATE) Pre-Conference
Saturday May 28th, 2-4PM
Inspiring a Passionate Commitment to Learning
Presenters: Dr. Sharon Friesen & Dr. Barb Brown
Galileo Educational Network (galileo.org), in the Werklund School of Education at the University of Calgary, creates promotes and disseminates innovative teaching, learning and leadership practices through research, professional learning and fostering collaboration across Canada both onsite and online. Presenters will share how students, teachers, administrators and faculty members are engaged in leading and learning, improvement and innovation and research and development. Six principles foundational to the work include: (1) stewarding the intellect through discipline-based inquiry; (2) infusing digital technologies; (3) providing high-quality assessment; (4) honoring collaboration and teamwork; (5) fostering scholarship of teaching and (6) providing practical, thought-provoking preparation for pre-service teachers. Using design-based professional learning strategies and design-based approaches to research serve to continually inform both theory and practice. A professional learning and research project focussing on STEM designs for learning will be highlighted as a current example of collaborative work with faculty members, Partner Research Schools and Galileo mentors and consultants.
The TATE SIG will then be hosting a dinner at Jameson's Irish Pub at 3790 Brentwood Road NW (just across Crowchild Trail from the University of Calgary) at 6pm on Saturday May 28th.
Please email Norm Vaughan if you would like to attend.
Canadian Association for Action Research in Education (CAARE) Book Launch Celebration
Date, time and location TBA.
We will be featuring recent scholarly work in action research, which will be introduced and briefly discussed by their respective contributors:
Dr. Clea Schmidt and Dr. Antoinette Gagne: Methodologies for Researching Cultural Diversity in Education (International Perspectives Edited by Geri Smyth and Ninetta Santoro)

Dr. Catherine D Bruce: Palgrave International Handbook of Action Research

Dr. Kurt Clausen: The Canadian Journal of Action Research
We are still interested in having more scholars share their work in the book launch, thus, if you are interested in sharing a recent book that you have contributed to or published in the field of action research in education, please feel free to send us an email. We hope you will join us in celebrating this special event at CSSE!
---
4. Member Announcements
2016 International Research Conference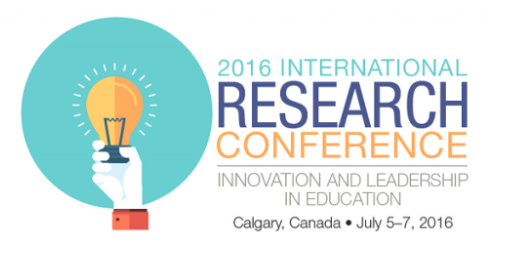 The Innovation and Leadership in Education International Conference, sponsored by Kappa Delta Pi and Mount Royal University, will focus on leadership for professional growth and educational innovation. This unique event will bring together educational researchers, education experts, teachers, educational administrators, undergraduate students, and graduate students who have theoretical and practical knowledge of the education of children and adults. The confirmed keynote speakers are Kenneth Zeichner and Gloria Ladson-Billings. The deadline for submissions is April 1st 2016 and is available on the conference website.
The Summer Institute in Education (SIE)
The Summer Institute in Education (SIE) in Kelowna, BC offers excellent learning opportunities for all educators, as well as Teacher Qualification Service (TQS) upgrading and graduate electives. Designed for optimum flexibility, the courses cover a wide range of topics. You can customize your own program. In the summer the UBC O campus atmosphere is active and inviting. The interactive, experiential nature of the courses and the weekly social gatherings provide meaningful times for learning and networking. Highly trained instructors from across Canada and around the world join local specialists to offer excellent learning opportunities. Join the hundreds of people who have found the Summer Institute in Education at UBC Okanagan's campus an empowering and enjoyable learning experience. For more information, please visit our website.
The 4th Annual Canadian Symposium on Indigenous Teacher Education

Dear Friends and Colleagues in CATE,
Greetings from UNB! The Faculty of Education and the Mi'kmaq-Wolastoqey Centre at the University of New Brunswick are proud to be hosting the 4th Annual Canadian Symposium on Indigenous Teacher Education this Spring. This unique conference aims to bring together teacher educators working and interested in Indigenous contexts to share ideas, experiences, and innovations regarding teacher education programs. A welcoming powwow followed by two days of panels and presentations highlight the theme of moving towards reconciliation in teacher education. Our confirmed keynote speakers are Joseph Boyden, Greg Lowan-Trudeau, Laara Fitznor and Jo-ann Archibald (Q'um Q'um Xiiem).
Please visit our website for additional updates, details on accommodations and to register.
We hope you can join us in April!
Woliwon, Wela'lin, Thank you, Merci!!

National Roundtable 2016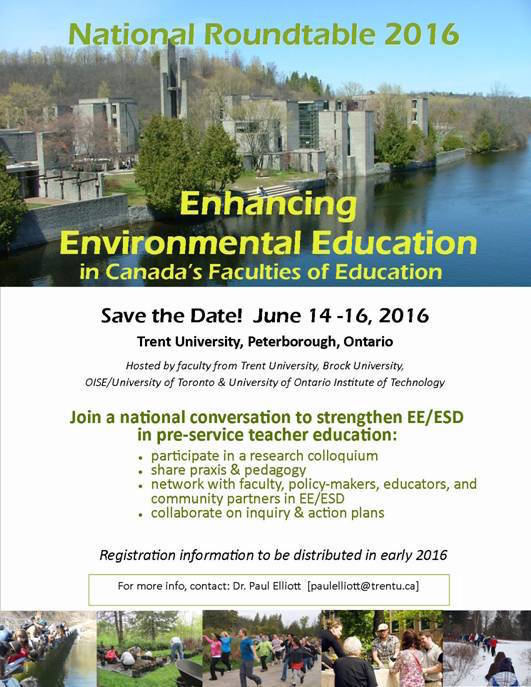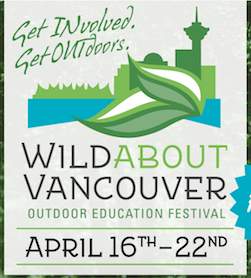 Wild About Vancouver Outdoor Education Festival
April 16-22 2016
WAV is a free public festival offering practical ways to get children (and adults) outdoors more regularly. It is open to the public and aims to unite and create long-term sustainable Outdoor and Experiential Learning (OEL) networks for organizations, schools, youth programs, and the broader citizenry (including youth and First Nations) of Vancouver. WAV is organized by a collective of volunteers passionate about improving children's lives and building supportive communities through OEL. WAV is currently looking for community partners to host events – please circulate this invitation to your networks. For more information and registration, visit WAV's website.
The 13th Annual Summer Institute on Early Childhood Development
Growing ECE Access and Quality: Opportunities and Challenges
June 2-3, 2016 at George Brown College, Waterfront Campus, 51 Dockside Drive, Toronto, Ontario
Across Canada and around the Globe policymakers are looking to expand children's access to early childhood education. Join Rowena Phair of the OECD's Education and Skills Directorate and Tove Mogstad Slinde of the OECD Network on Early Childhood Education and Care as they discuss how states are expanding ECE access while maintaining program quality; balancing the needs of 0-3 year olds with programs for 4-6 year olds; and addressing children's right to ECE with parents need for child care. Please visit our website for more information.
International Study Association on Teachers and Teaching (ISATT) announces the 18th Biennial ISATT Conference 2017
3 – 7 July 2017 at the University of Salamanca, Spain
The 18th biennial ISATT conference to be held in Salamanca in July 2017 offers the opportunity to attend an outstanding conference, visit the beautiful city of Salamanca (designated as a world heritage site since 1988), and to participate in celebrating the 800th Anniversary of the founding of the University of Salamanca. (Yes, 800th: 1218-2018 J). Hope to see you there!
Susan E. Elliott-Johns, a longtime member of CATE, is currently the Secretary/Vice-Chair of ISATT (the International Study Association on Teachers and Teaching), and encourages teachers, teacher educators, and graduate students to consider becoming a member of ISATT. Susan was in Salamanca, Spain in January to meet with colleagues from the University of Salamanca – all members of the conference planning team for ISATT, 2017: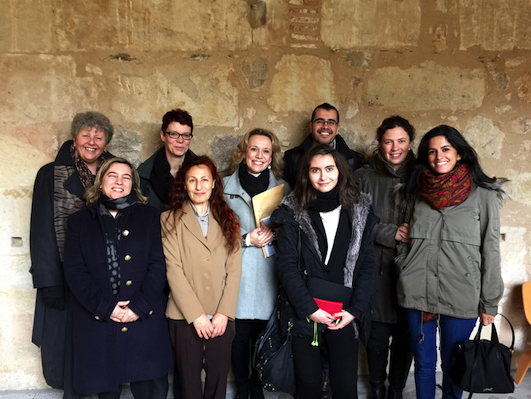 (Back Row) Dr. Susan Elliott-Johns, Ms. Daniela Hotolean, Dr. Azucena Hernández, Dr. Juanjo Mena.
(Front Row) Dr. Maria Assunção Flores Fernandes, Dr. Marisa García, Ms. Marta Martín, Dr. Sonia Casillas, Ms. Verónica Basilotta.
Please visit the conference website for more information.
International Congress for School Effectiveness and Improvement (ICSEI)
Ottawa, Ontario, January 7-10 2017

Ottawa will host the International Congress for School Effectiveness and Improvement (ICSEI) that will take place from 7-10 January 2017. The conference will be co-chaired by the University of Ottawa and the Ontario Ministry of Education. The conference theme, 'Collaborative Partnerships for Systems-Wide Educational Improvement' gives prominence to the importance of partnerships between and among the various participants in international education systems – students, parents, community partners, schools, districts, governments and academics – to inform and impact student learning, practitioner professional learning, and systems leadership.
ICSEI's website. Closing date for submissions: Monday May 30th, 2016.
IDEAS 2016: Designing for Innovation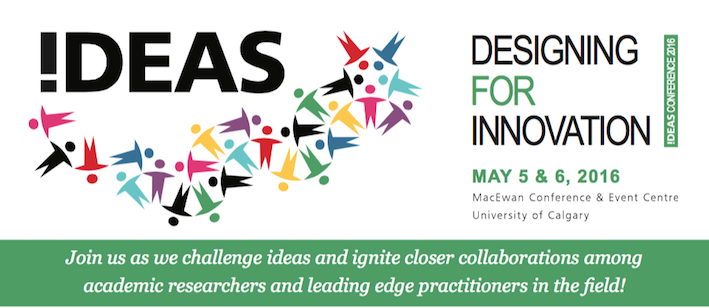 The Werklund School of Education and the Galileo Educational Network invite you to participate in the IDEAS Conference. The theme of IDEAS 2016 is Designing for Innovation. Through our collaborative work, we are rising to the challenge of:
Design Thinking;

Higher Education Teaching and Learning;

Indigenous Education;

Language & Literacy;

Leadership;

STEM.
Join us for this one and a half day conference with an internationally renowned keynote speaker, more than 40 interactive concurrent sessions and a networking reception.
For more information or to register for the conference, visit our website.
Inquiries should be sent to: galedcon@ucalgary.ca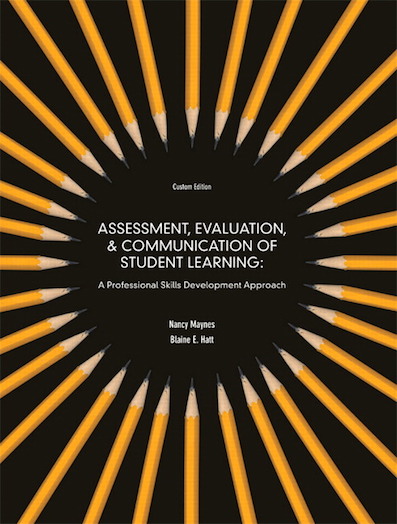 BOOK ANNOUNCEMENTS
Assessment, evaluation, and communication of student learning:
A professional skills development approach
by Nancy Maynes & Blaine E. Hatt
A practice focused text to help teachers learn and then practise the many skills related to assessment, evaluation and reporting their students' learning, delivered in a workbook format. The book is divided into 30 modules that can be mixed and matched as instructors wish.